By: Orit Peleg-Barkat, Institute of Archaeology, Hebrew University, Mount Scopus 91905, Israel
When I was a teenager I thought I would one day become an astrophysicist, exploring black holes and red giants. But after high school I have worked for several years as a tour guide in Israel, specializing in tours to Jerusalem and the Judaean Desert. And there, climbing for the seventieth time to Masada – the amazing fortress palace built by King Herod – with a group of school kids behind me it hit me: I got the bug; the bug for archaeology and the fascination for the enigmatic and multi-faceted character of King Herod.
Several years later I found myself writing my PhD dissertation on the architectural decoration of Herod's construction projects. I have studied every column base or capital that was ever found in Judaea in a site relating to Herod's reign and I have learned that Herod and his teams of artisans made a revolution in this field and transformed the way in which private and public structures in Judaea were being decorated. While the Hasmonaeans, Herod's predecessors, made only restricted use of Classical architectural decoration in their palaces at Jericho and elsewhere, Herod made much more extensive use of it and the variety of shapes of the architectural decoration and the types of architectural contexts in which it was used extremely increased. The new forms of decorations that Herod introduced into the local architecture were mostly of particularly Ro­man origin, such as the stucco ceilings in the "coffer-style" and the console cornice. Other changes, such as Herod's increased reliance on the Corinthian rather than Doric order preferred by the Hasmonaeans, probably reflecting Augustus' choice of the Corinthian order as representing the new Roman taste, also manifest strong Roman influence.
These clear indications of Roman cultural influence are of course not surprising. They coincide with similar trends in other fields of Judaean art and architecture and reflect Herod's wish to integrate Judaea into the Roman Empire. The reign of Herod is characterized by the introduction of Roman forms and styles in wall paintings, mosaics, and especially in architectural design and construction techniques. Roman influence on Herod's architecture is well attested in the establishment of the city of Caesarea Maritima and the re-founding of Samaria as Sebaste — both named after Augustus and containing a temple dedicated in his honor. However, the Roman influence on Herod's architecture went deeper than what was sufficient to satisfy his Roman patrons. Building techniques, such as the use of underwater concrete for the harbor of Caesarea, opus reticulatum in Jericho, Banyas, and Jerusalem, and the extensive employment of vaults and domes, as well as new forms of decoration, such as opus sectile floors and Pompeian-style wall decoration, were introduced by Herod into local architecture, providing some of the first examples of such Roman traits in the East. This makes Herod a trendsetter, as later on other client kings followed in his footsteps.
Another very interesting trait of the architectural decoration in Herod's constructions is the fact that despite the luxury and opulent use of columns and other architectural items in the palaces, many architectural and decorative elements remained blocked out or in their quarry-state, mainly the Ionic capitals and Ionic and Corinthian cornices. This method enabled a constant supply of partially-dressed stones, which could then be finished on site with stucco. Such an economic attitude was necessary in order to accomplish the completion of all of the numerous construction projects initiated by the king.
Herod's decorative program had an impact not only on other client kings, but also on the tastes of many of his subjects; the architectural decoration in cities such as Jerusalem demonstrates how the innovations introduced by Herod to the local architecture were embraced by the elites of those cities. In peripheral cities and smaller sites such as En-Gedi and Gamla, however, the architectural decora­tion maintains the local Hellenistic tradition.
So, I guess I will not have a real chance in this life to study a white dwarf or discover a new constellation. However, studying the past and revealing its secrets is much exciting and rewarding for me. If you wish to get a bit excited yourselves about King Herod and his construction projects, have a look at my recently published article on JSTOR.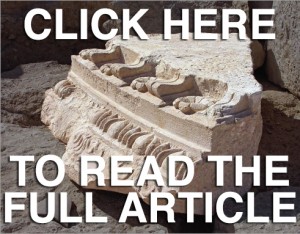 ---
The Bulletin of the American Schools of Oriental Research (BASOR) is a leader among peer-reviewed academic journals of the ancient Near East. For nearly a century, since 1919 when William F. Albright originally founded it as the Bulletin of the American School of Oriental Research in Jerusalem, BASOR has served as a highly respected interdisciplinary English-language forum for scholars worldwide in subject areas such as archaeology, art, anthropology, archaeometry, bioarchaeology and archaeozoology, biblical studies, history, literature, philology, geography, and epigraphy. Published by the American Schools of Oriental Research (ASOR), the journal contains articles written by leading scholars and acknowledged experts in the ancient world which cover a geographical region from Israel and Canaan to ancient Anatolia, Mesopotamia, Cyprus, and Egypt and a chronological range from the Paleolithic period through Islamic times.
Institutional Subscription Price (print, see below for online subscriptions): $270.00
For non-US subscriptions, add $30.00
Individuals may subscribe to the Institutional Subscription Price by printing and mailing a Subscription Form.
(Note: For individuals interested in receiving BASOR, please consider purchasing a membership that contains a subscription to BASOR rather than a BASOR Institutional Subscription. For more information on our memberships, click here.)
~~~
All content provided on this blog is for informational purposes only. The American Schools of Oriental Research (ASOR) makes no representations as to the accuracy or completeness of any information on this blog or found by following any link on this blog. ASOR will not be liable for any errors or omissions in this information. ASOR will not be liable for any losses, injuries, or damages from the display or use of this information. The opinions expressed by Bloggers and those providing comments are theirs alone, and do not reflect the opinions of ASOR or any employee thereof.