OFFER GOOD UNTIL APRIL 15, 2014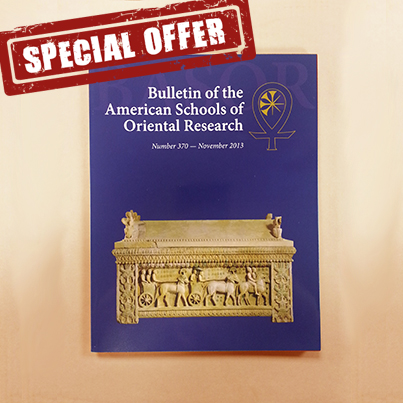 Look Inside
Non-Member Price - $80 (Includes U.S. S&H)
ASOR Member Price - $40 (Includes U.S. S&H)
FOR A LIMITED TIME ONLY:
Anyone who has not been an ASOR member for 2+ years
 can apply the cost of this
BASOR
issue towards any membership fee (subject to availability and excluding Associate Memberships). After purchasing this issue of 
BASOR
at the non-member price, please e-mail us at
ASORMemb@bu.edu
to receive the code for the special membership fee.
For Example: You can purchase this issue of BASOR for $80 and receive a Print U.S. Professional ASOR Membership for $50 (normally $130).
The Bulletin of the American Schools of Oriental Research (BASOR) is published biannually by the American Schools of Oriental Research. The journal will consider for publication manuscripts consistent with the broad areas of research supported by the society. These include the art and archaeology, history, anthropology, literature, philology, and epigraphy of the Near East and eastern Mediterranean world from the Palaeolithic period through Islamic times.
Order your issue of BASOR now while supplies last!
Product Details
Series: Bulletin of the American Schools of Oriental Research (BASOR)
Paperback: 256 pages
Publisher: American Schools of Oriental Research
Language: English
ISSN: 0003-097X
Product Dimensions: 11 x 8.5 x 0.5 inches
Shipping Weight: 1 pound 14.1 ounces