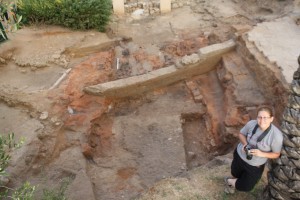 By: Amy Karoll, 2012 Heritage Fellow
This is the second year that I have excavated with the Jaffa Cultural Heritage Project in Tel Aviv-Yafo.  With the help of the Heritage scholarship, I was able to help fund this second year here.  I am a staff member, and oversaw excavations in the LBA Egyptian gateways in Area A.
The primary goals of the field season were twofold. First, we wanted to fully articulate the gateway associated with the Ramses II gate and to check the constructional phases of this gateway. Also, we wanted to uncover the next phase of the gateway complex that was encountered both by Jacob Kaplan and Ze'ev Herzog in their excavations in the area in the 1950s and 1990s, respectively.  Secondarily we wanted to correspond what we were finding this year and last with the earlier reports on Jaffa.
I personally oversaw excavations in two squares with students from UCLA, the University of Pittsburgh, and Mainz University in Germany.  With their help (and patience!) we were able to excavate the Ramses II gateway completely and to also expose the earlier mudbrick tower as it was encountered in previous excavations.  If I wasn't well versed in it before, I am now pretty capable of excavating mudbrick.  For the most part, that is all that we encountered!  Lots of pottery, some pretty special small finds, and mudbrick.  All count, we have a minimum of three phases of mudbrick from different points in the LBA in my two 5×5 m squares alone!  Red mudbrick, gray mudbrick, yellow mudbrick, orange mudbrick.  After awhile, we started to sound like a Dr. Seuss book with the different colors and types of mudbrick!
I now find myself in the study season in Tel Aviv-Yafo, working on closing up our excavation season and on exploring the vast amounts of materials we have on hand from previous excavations.  All told, I have had a full summer of field and lab work to help round out my education of archaeology in the Near East.  I am definitely doing this again next summer!
Again, thank you ASOR and the Heritage fellowship and everyone who donates that made this excavation trip possible!  It was an amazing experience!
~~~
All content provided on this blog is for informational purposes only. The American Schools of Oriental Research (ASOR) makes no representations as to the accuracy or completeness of any information on this blog or found by following any link on this blog. ASOR will not be liable for any errors or omissions in this information. ASOR will not be liable for any losses, injuries, or damages from the display or use of this information. The opinions expressed by Bloggers and those providing comments are theirs alone, and do not reflect the opinions of ASOR or any employee thereof.