By: Joel E. Lisboa, Andrews University, Platt Fellowship 2014
Studying archaeology, reading books related to the subject, and obtaining good grades in archaeology related courses does not turn one into a bona fide archaeologist. Having the privilege to participate in an archaeological excavation on the field is an experience that I will be forever grateful to ASOR and the Platt Fellowship donors. Although I have been studying archaeology for over a year, this is my first dig experience.
From the beginning, we have been faced with several issues. Missed flights and several other local problems occurred because this is the first time this area has been exposed to an archaeological excavation. But after a few days, we gained "ground" and found the necessary affinity to the area.
Currently, I'm writing from Sicily and utilizing my free time to tell others about my experience. I'm part of Andrews University's excavation in Sicily, which is a part of the Belize Valley Project. The director of the excavation is Dr. Randall Younker, professor of archaeology at Andrews University. The excavation will be two months long. The first half of the excavation is concentrated on Monte Raitano, (where I'm currently excavating) located in San Cipirello, Sicily. The second half will take place at Mokarta and San Miceli, in the Salemi area of Sicily. The material culture in Sicily is vast, from Late Bronze Age to the Medieval Period. The same has been reflected on the pottery that we have found at the three sites (possible Roman/Byzantine area, and Mycenaean/Medieval tombs/granaries) currently being excavated on Monte Raitano.
I have been working on two of the three sites that are currently being excavated. The first week and a half I worked on the supposed Roman/Byzantine site. With the help of various students and supervisors, we managed to set up a 5 x 5 square and dug over a meter in one part of the square. Being an archaeologist requires more than being talented academically: it also requires goodwill, patience, and some physical strength! The daily routine consisted of taking photographs, taking measurements and elevations, picking, digging, and cleaning the square. We found only a small portion of pottery consisting mostly of Prehistoric, Middle Bronze Age, and Late Roman time periods. After a week and a half, the decision was made to stop excavating and close the square because it was highly probable that most of the pottery had washed from higher areas of the mountain into the square. For that reason, that site was probably not ideal for finding Roman or Byzantine ruins. Nonetheless, it gave us a reliable and clear view of the lower part of Monte Raitano in order to better understand the geography and layout of the landscape.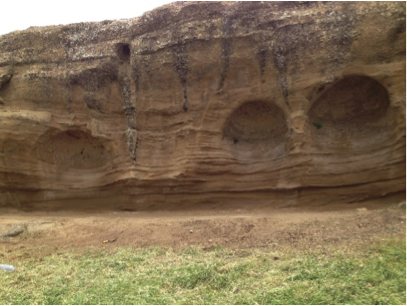 On the other side of Monte Raitano, where most of the team is concentrated, there are rocks that present peculiar structures that could possibly be old granaries or tombs. Three to four openings are located directly above these structures. The space down there is pretty tight and only a maximum of two or three people can work at the same time. The initial thought was that they were used for granaries or tombs. The pottery recovered was diverse, from the Medieval Period to a more modern time. As for now, the data is inconclusive.
When excavating is finished around 12:30p.m., each team goes down the mountain to have lunch, and then we all return to the school where we are staying. After that, the real dirty work starts: pottery washing! All the buckets with the pottery are taken outside and are washed with brushes and other tools. With the help of most of the students, the washing of pottery takes around 15-30 minutes. Although, it is not the most exciting part of the dig, the time spent washing pottery helps to build a social bond between each group. Finally, a group of experienced archaeologists read and analyze the pottery.
This has been an exciting experience so far. Sicily is a beautiful place, full of wonderful places ready to be excavated by archaeologists. I want to thank ASOR for this incredible opportunity, and for their constant appeal to the field of archaeology. Also, I'm very grateful for Platt Excavation Fellowship and their donors for this generous scholarship that helped me in my first archaeological experience.
~~~
Want more like this post? Let us know! Be sure to share this post on Facebook, and tweet it out on Twitter! As always, we'd love to hear from you! Let us know what you thought of this post by leaving a comment below. Be sure to like us on Facebook, follow us on Twitter, and subscribe to us on YouTube to stay updated on all things ASOR.
~~~
All content provided on this blog is for informational purposes only. The American Schools of Oriental Research (ASOR) makes no representations as to the accuracy or completeness of any information on this blog or found by following any link on this blog. ASOR will not be liable for any errors or omissions in this information. ASOR will not be liable for any losses, injuries, or damages from the display or use of this information. The opinions expressed by Bloggers and those providing comments are theirs alone, and do not reflect the opinions of ASOR or any employee thereof.