By: Rimon Armaly, 2013 Heritage Fellowship Recipient
In the 2013 season, I participated in a dig at Abel-Beth-Maacah. I am currently a second-year archaeology student at Trinity International University. The program at Trinity requires the participation of students in a dig somewhere in the Middle East. From among the various options, I chose Abel-Beth-Maacah in Israel. I made my decision to travel to Israel after a brief discussion with my professor, John Monson, who shared with me some options. I already had a desire to go to Israel to dig because of the strong connection between the Bible, archaeology, and Ancient Near East texts.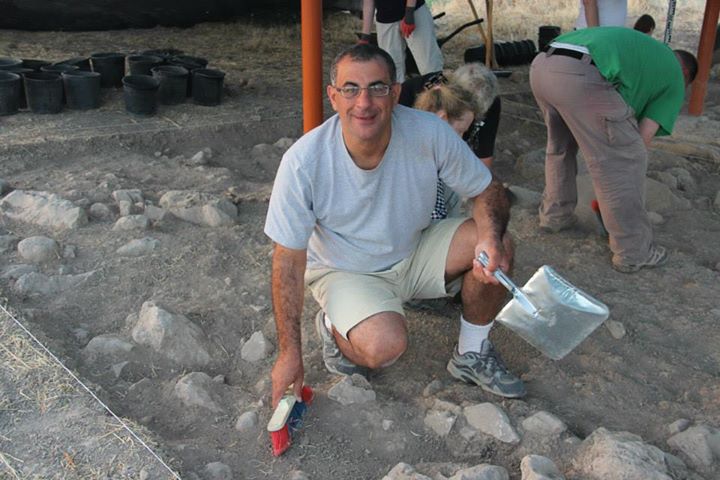 I began digging on June 23, 2013 and continued through July 12. Dr. Robert Mullins and Nava Panitz-Cohen led the dig. Mullins, the director, placed me in area F at the southern edge of the tel. The main structure of interest is the L-shaped structure, its plan and function not yet known. The L-shaped structure dates back to the 10th–9th century BCE. It seems that the structure was destroyed by a disturbance. The foundation of this structure continues down deep into the soil, and no one is able to give a firm date for its construction. The big discovery onsite was in the square that I excavated together with Scot Booth and Dianne Benton: a jug with a small hoard of silver inside. We also found some nice pottery and two basalt ring weights.
Abel-Beth-Maacah is located 4.5 miles west of Tel Dan and 1.2 miles south of Metulla on the border with Lebanon. Abel-Beth-Maacah is first mentioned in II Sam 20: 14–18; it is described as a town. The context of this biblical passage is a revolt against king David by Sheba ben Bichri. Abel-Beth-Maacah was a great city in the past, which makes it very important to dig up and discover the environment in which its people lived and to learn about the ways in which they lived in it. Different archaeological digs award us with different perspectives, which are only possible to achieve through study and excavation.
I loved the site and the people I worked with. It was an exciting moment to dig. Trying to parse (date) a pottery shard from the past is similar to parsing a verb in biblical Hebrew. I am glad I had this opportunity to participate. I am grateful to Professor John Monson, who helped to bring this dream of mine to fruition. I am also thankful to the American Schools of Oriental Research, through which I was granted a Heritage Fellowship. This Fellowship made it possible for me to go to Israel and to participate in the dig. I am also grateful to those who donated to this cause.
~~~
All content provided on this blog is for informational purposes only. The American Schools of Oriental Research (ASOR) makes no representations as to the accuracy or completeness of any information on this blog or found by following any link on this blog. ASOR will not be liable for any errors or omissions in this information. ASOR will not be liable for any losses, injuries, or damages from the display or use of this information. The opinions expressed by Bloggers and those providing comments are theirs alone, and do not reflect the opinions of ASOR or any employee thereof.